Whether you like them in muted shades or prefer to brighten up the world with multicoloured patterns, your leggings have an important role to play in heat regulation when running. The right tights can do a great job of cooling you down when you're sweating hard or keeping you warm on chilly early morning runs – not to mention protecting you from wind, rain and harmful UV rays.
You'll need leggings that both suit the conditions and fit you well, but finding the right pair of leggings that don't fall down or ride up, chafe or make you too hot is easier said than done. Check the fit before you commit. Try different brands, styles and types of leggings to find the perfect fit for your body shape.
Stylewise, three-quarter-length cropped tights (or capris) will keep you cooler, while full-length thicker leggings will ensure you're toasty on a winter's day. Opt for compression tights for (possibly) faster muscle recovery and fewer aches after running.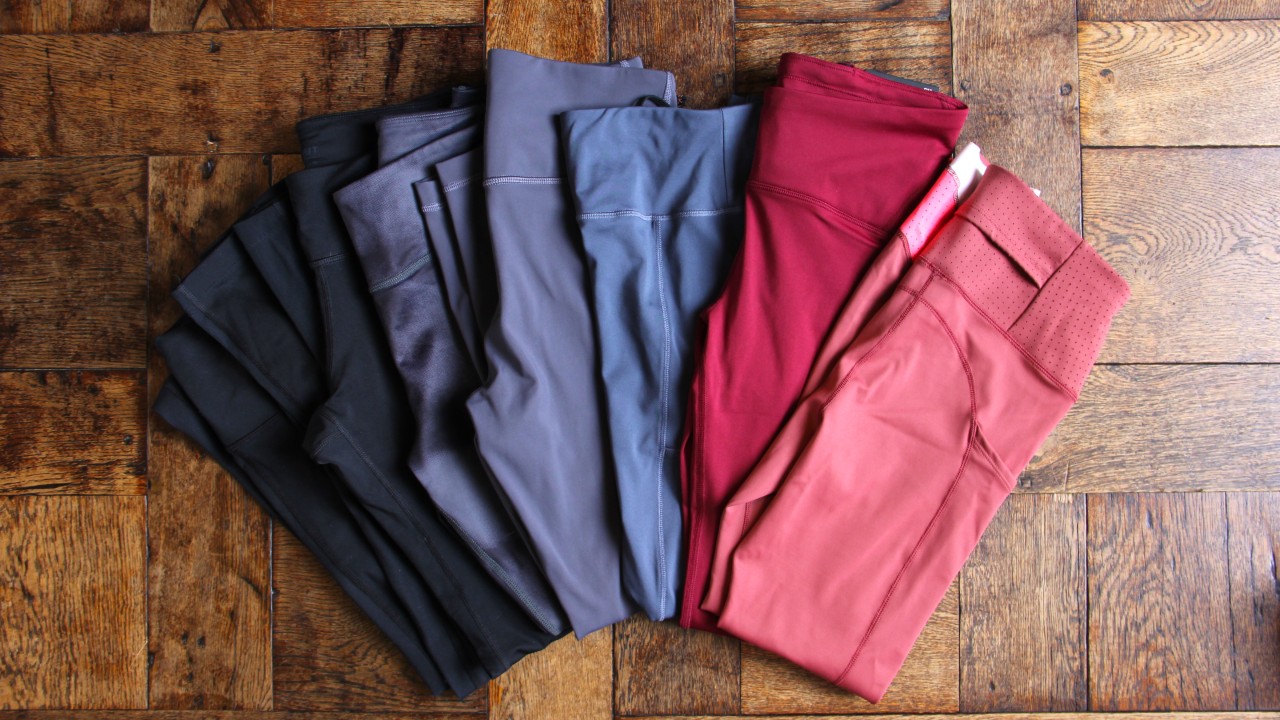 We've been testing the best women's running leggings since 2018, and have recommended our favourites, as well as using our experience to assess and spotlight popular styles in a number of categories to make your decision easier.
If you're building out your running wardrobe, you may like to browse our picks of the best running bras, women's running jackets, women's running tops and women's running shorts.
Best Running Leggings With Pockets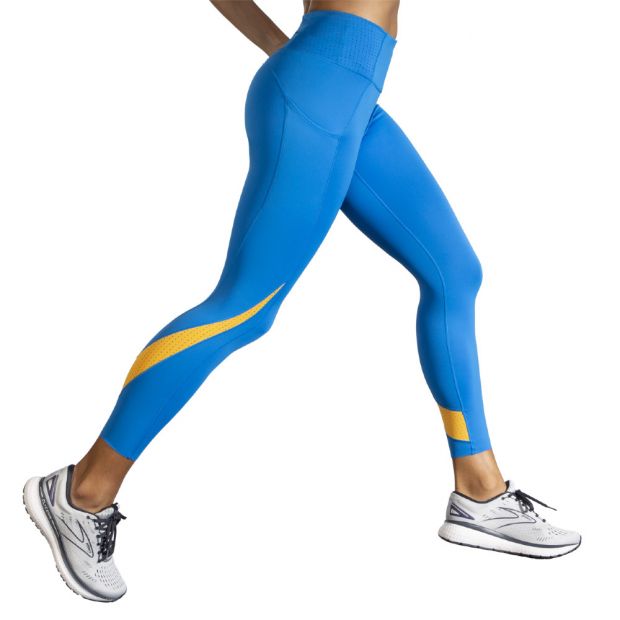 (opens in new tab)
Another brand that's moved with the times and embraced the high waist – hurrah! These running tights also have a wide, shaped waistband which won't roll down when you bend over or slip down as you run. The supportive fabric is smooth and fairly lightweight, and perforated panels help keep you cool. There are plenty of pockets including two phone pockets on the legs and a fold-over pocket at the back of the waistband. They're only available in a cropped length, but these ones tick all our boxes.
---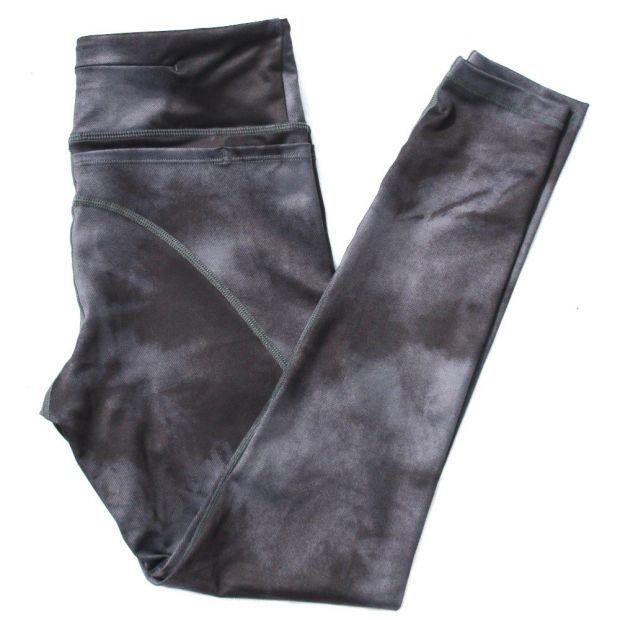 (opens in new tab)
Offering excellent value for money, these leggings are high-waisted, squat-proof, and have a phone pocket on the thigh and a zip pocket at the back of the waist. We loved the feel of the thick, soft and supportive fabric, although you wouldn't want to run in them when it's hot. The high waistband was comfortable and stayed put even when we removed the uncomfortable, giant-shoelace-like drawstring. There are several prints to choose from but we fell hard for the moody Dark Denim Sky print.
---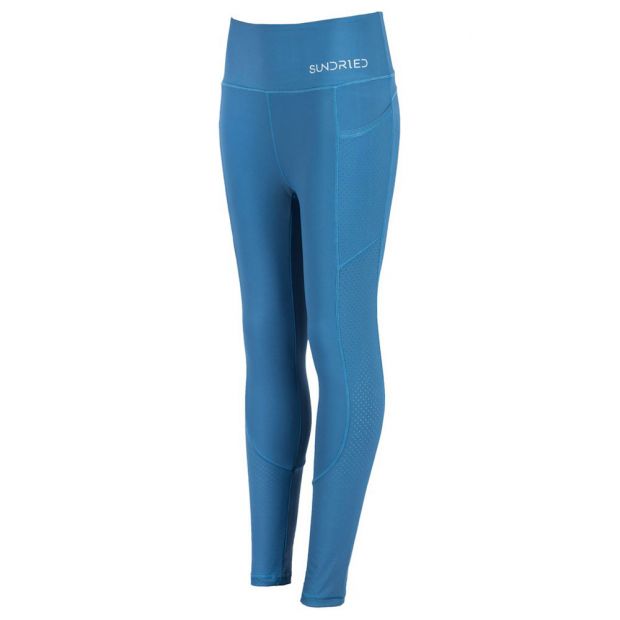 (opens in new tab)
Comfortable high-waisted leggings that don't fall down, have pockets and yet don't cost the earth are surprisingly rare, but this Sundried pair fit the profile. They're soft and supportive, with a wide waistband and lots of pockets: two roomy ones on the legs and a secure zip pocket at the back of the waist. Perforated panels on the sides help keep you cool, too.
---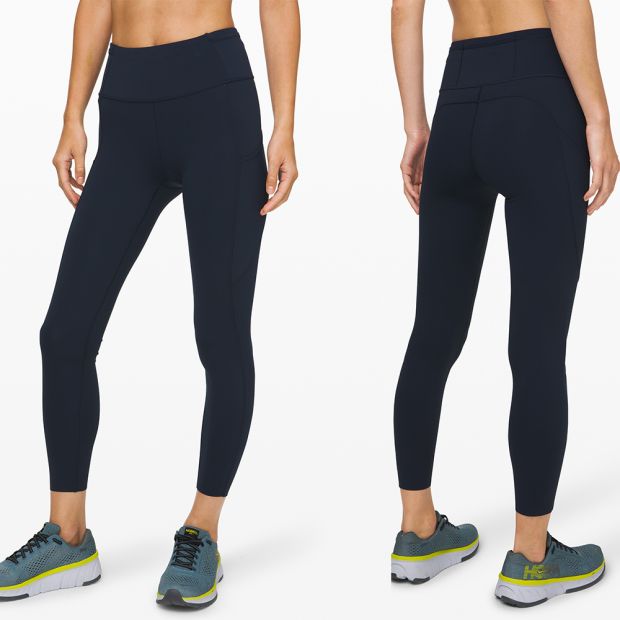 (opens in new tab)
These high-waisted full-length tights are among the best we've tried, combining a flattering fit with staying power thanks to the wide, contoured waistband and drawstring that mean there's no need to readjust them mid-run. The lightweight, quick-drying Nulux fabric feels barely there, but still offers good coverage. Drop-in gel pockets can be found around the back and sides of the waist, and there are also two snug leg pockets ideal for your phone or keys. They also come in a cropped length, and a wide range of colours and sizes (the website lists US sizes; 0-24 translates to 4-28 in UK sizes).
---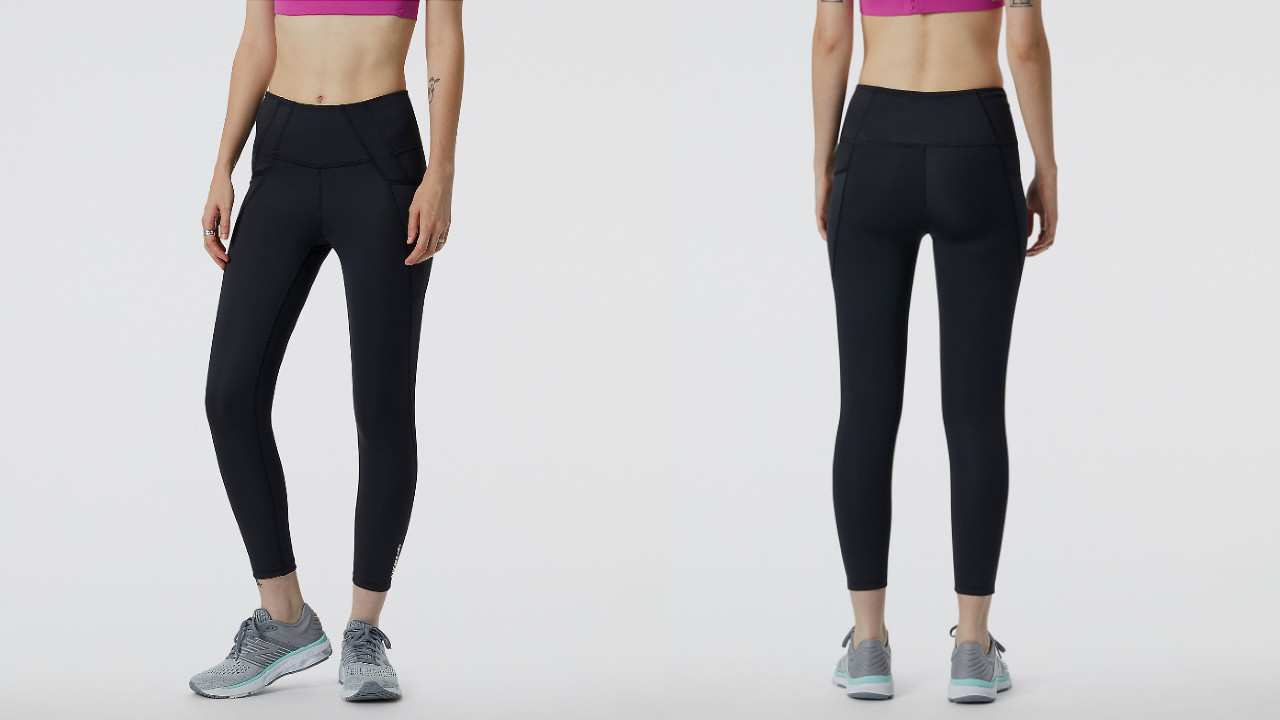 (opens in new tab)
These slightly cropped leggings from New Balance have a panelled design at the waist which is both flattering and functional, helping the wide waistband stay put. A drop-in pocket at the top of the thigh allows you to keep your phone within reach. The NB DRYx premium fabric feels soft, gives good coverage and is efficient at wicking away sweat.
---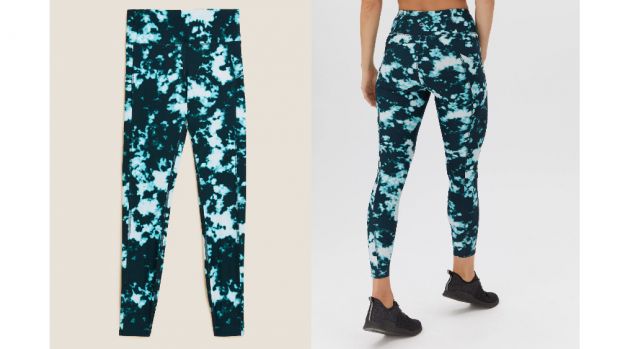 (opens in new tab)
An excellent-value high-street option, these supportive and high-waisted leggings from M&S's Goodmove range offer totally opaque coverage, a phone pocket on the leg and a zip pocket on the waistband. And best of all, they come in some stylish prints that could almost be from one of the high-end athleisure brands. We won't tell if you don't.
---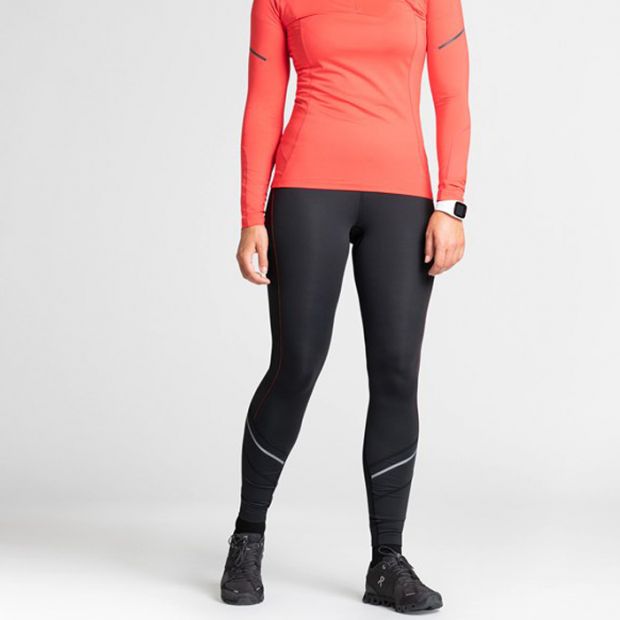 (opens in new tab)
Soft and warm yet breathable, these running tights from Gore are ideal for chilly morning runs. Zips by the calves mean you can wear them while warming up for a race or a track session before whipping them off easily. The wide elasticated waistband with a drawstring stays firmly in place, and the zip pocket on the back waistband will keep your valuables secure while the two side pockets are perfect for your phone or gels.
---
Best Nike Running Leggings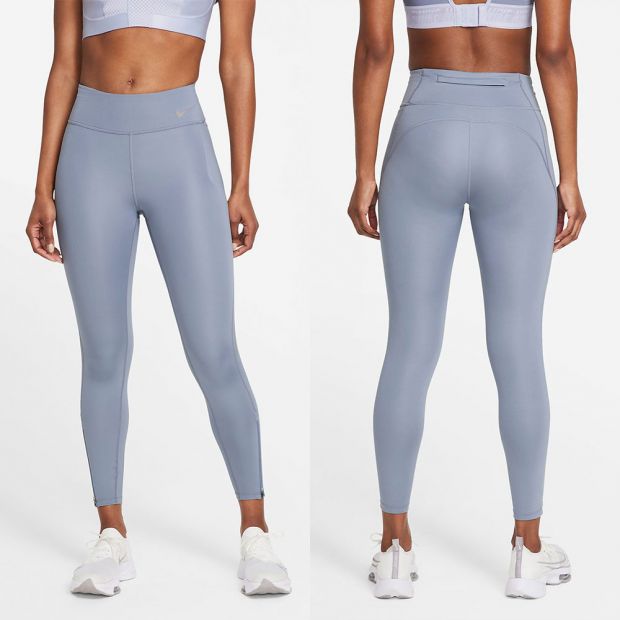 (opens in new tab)
The fabric on these 7/8 length leggings is soft, smooth and stretchy and uses recycled polyester, and once you've wriggled into them the high, wide waistband with hidden drawstring keeps everything in place. A small drop-in side pocket and a larger zip-up pocket at the back of the waist ensure you can take your essentials with you, while zips on the lower legs mean you can change out of these leggings in a flash.
---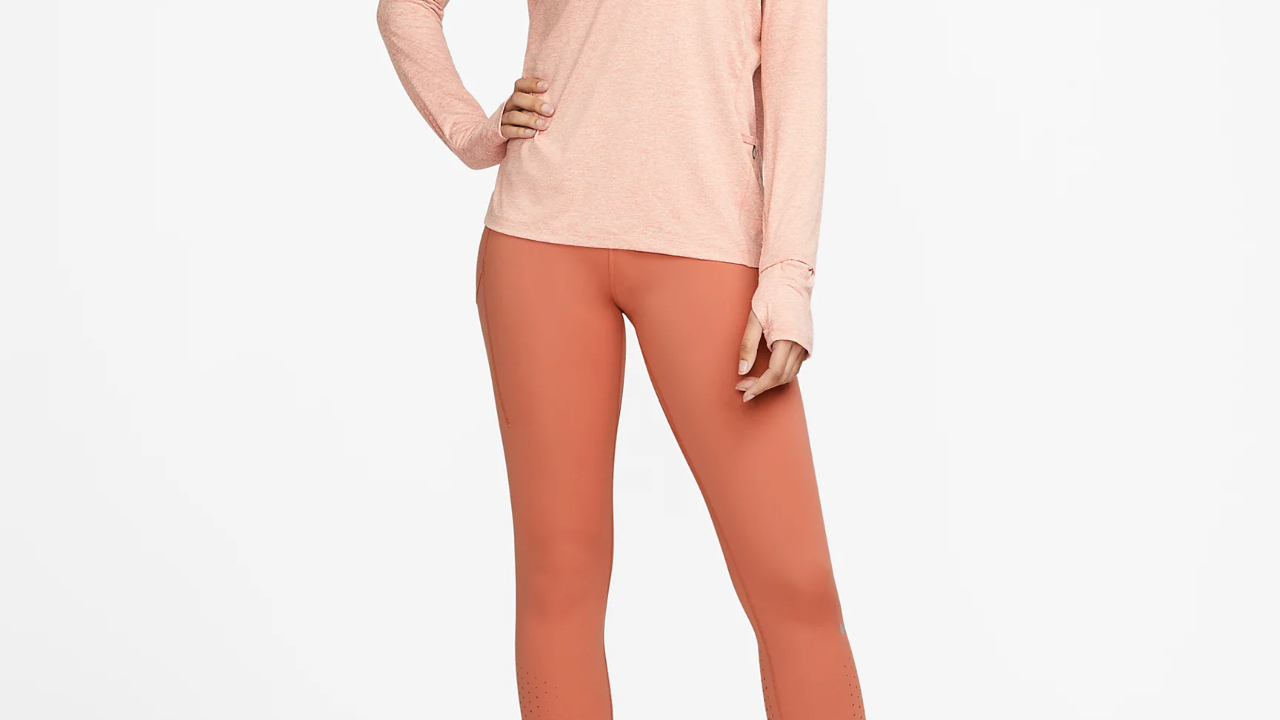 Made with Nike's premium Luxe fabric, these leggings are soft and sleek, with just enough compression and coverage. The flattering mid-rise waistband has a drawstring that ensures it stays put. With five pockets, including a large zipped one on the back of the waistband and two phone-size pockets on the legs, you won't struggle to stash your essentials. Laser-cut holes on the lower legs give extra ventilation.
---
Best Patterned Running Leggings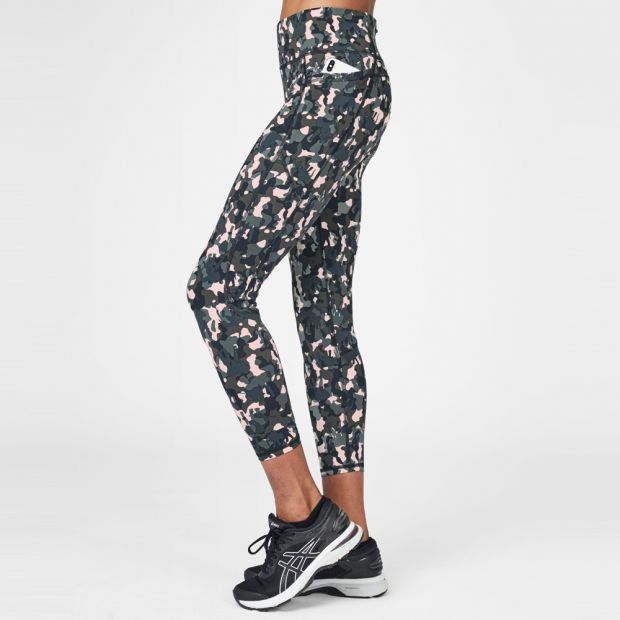 (opens in new tab)
These lightweight, compression running leggings are high-waisted, bum-sculpting and available in some pretty awesome prints. There's a secure zipped pocket at the back of the waistband and a deep side pocket that will fit your phone. Although a popular choice among runners, be aware they're not ideal for anything that involves squatting because the lightweight material isn't completely opaque when stretched.
---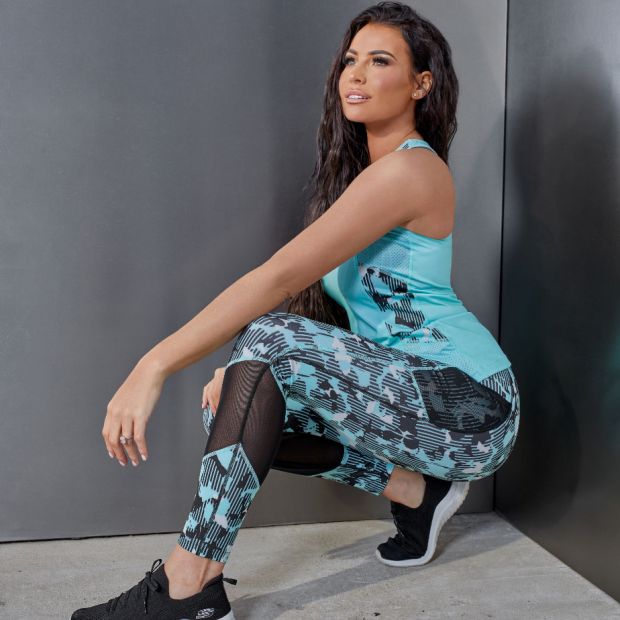 (opens in new tab)
We love the fresh aqua camo print here, as does TV personality Jess Wright who chose these as part of her Pour Moi edit. The high-waisted leggings, available in sizes 8-18, have extra elastic around the wide, shaped waistband to ensure they don't roll down, and the sweat-wicking material is squat-proof and supportive. There are two mesh panels for ventilation on the lower leg, as well as two mesh side pockets and a hidden key pocket.

---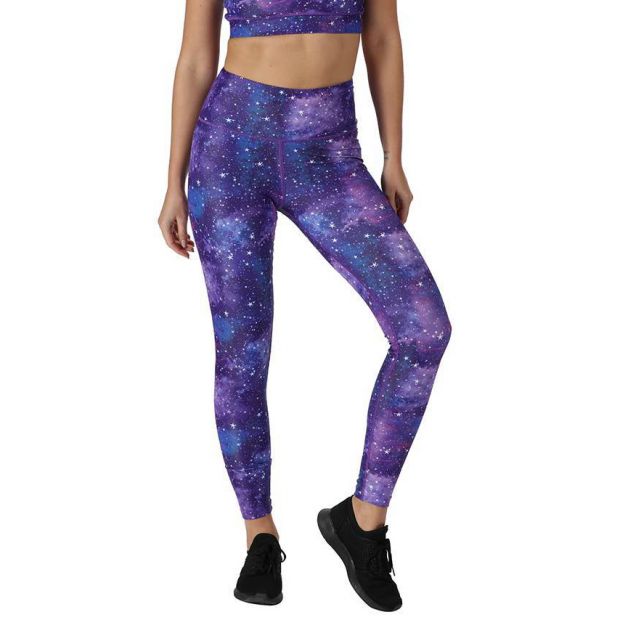 (opens in new tab)
If you're sick of ordinary running gear, and instead crave joyful prints and bright colours, Tikiboo is for you! Designs range from galactic skies to neon rainbow leopard print, via snakeskin, graphic monochrome and skull prints. Tikiboo running leggings are high-waisted, made of stretchy, breathable, medium compression Lycra with flat-locked seams and don't suddenly turn see-through when you squat. There's a large pocket with a zip at the back of the waistband. One word of caution: these leggings are suited to cool-weather workouts.
---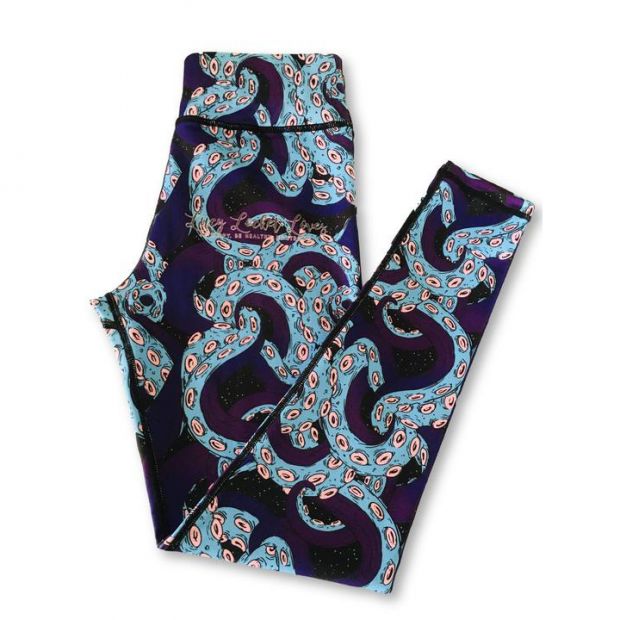 (opens in new tab)
Another brand with some fabulous prints, Lucy Locket Loves has a fun and colourful selection of printed sportswear leggings with elasticated high waists and double-stitched seams. The squat-proof spandex material is supportive and has moisture-wicking qualities, although it's not the most technical fabric on the market. From psychedelic patterns to sea creatures and kitsch tropical prints, eye-catching designs are available in either full length or capri. All have a secure zip pocket at the back that's large enough for a phone.
---
Best Seamless Running Leggings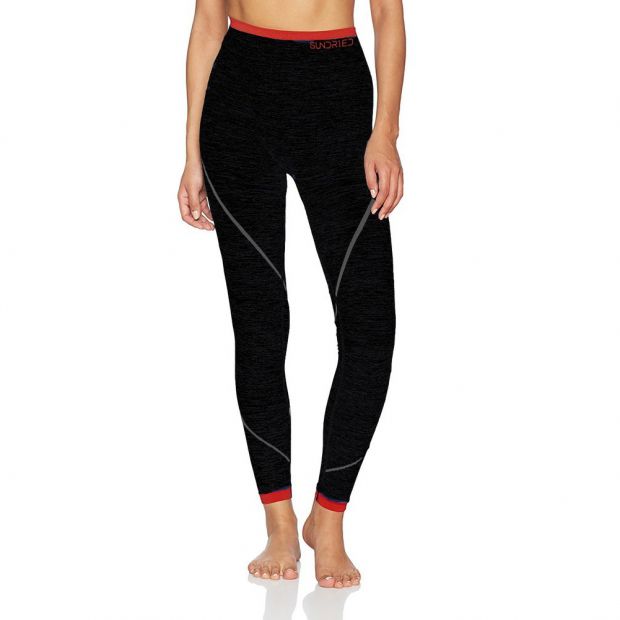 (opens in new tab)
For a comfortable feel and a form-fitting look, try seamless leggings. We love these from British brand Sundried, which makes some of its affordable sportswear from recycled coffee grounds and plastic water bottles. The resulting fabric is a high-quality polyamide/elastane blend that feels soft and comfortably stretchy against the skin. The high-waisted cut is extremely flattering and has become a new favourite with our tester. They are fairly long in the leg. The only downside is that there are no pockets.
---
Best Lightweight Leggings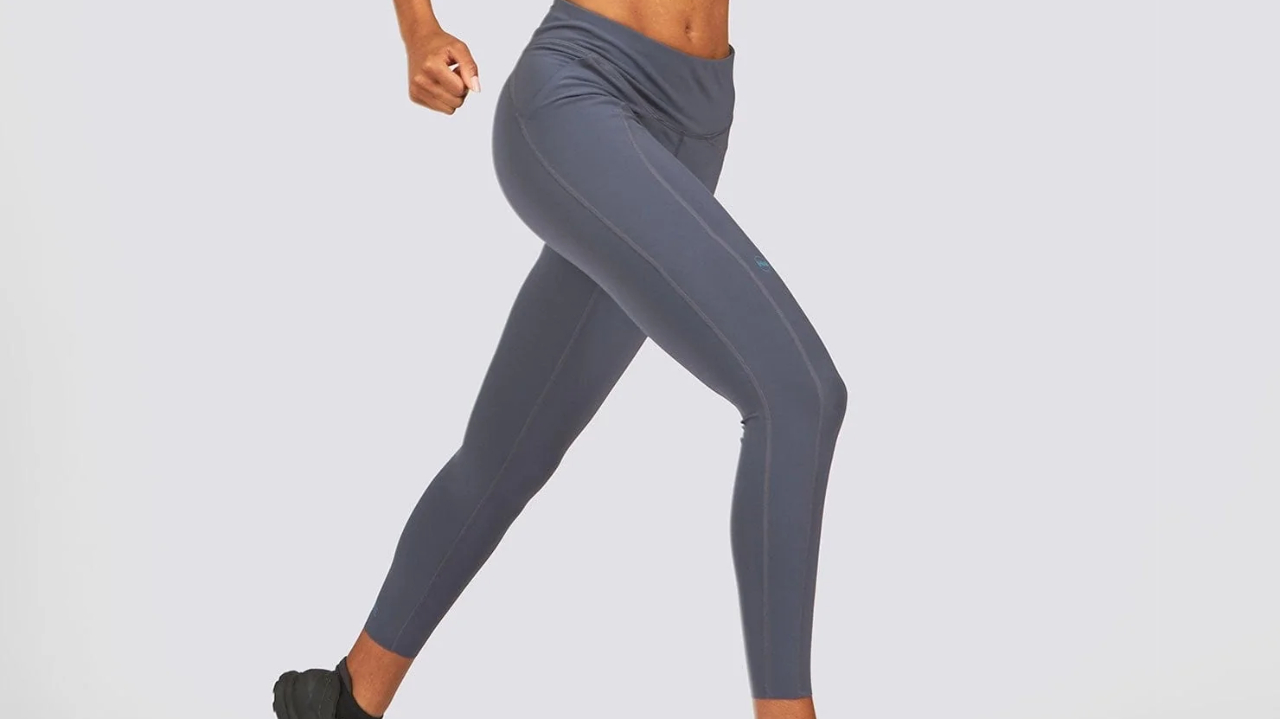 Made with a tight-knit blend of nylon and spandex with a polyester-power-mesh lining, these lightweight leggings are soft and comfortable while providing structure and support. Also, most importantly, they don't need yanking up mid-run. The fabric choice makes for less microfibre shedding in the wash and a more durable garment. As well as drop-in waist pockets there are two deep leg pockets that will keep your belongings bounce-free and within reach. The shorter length and mid-rise waist makes these leggings a popular choice for petite runners.
---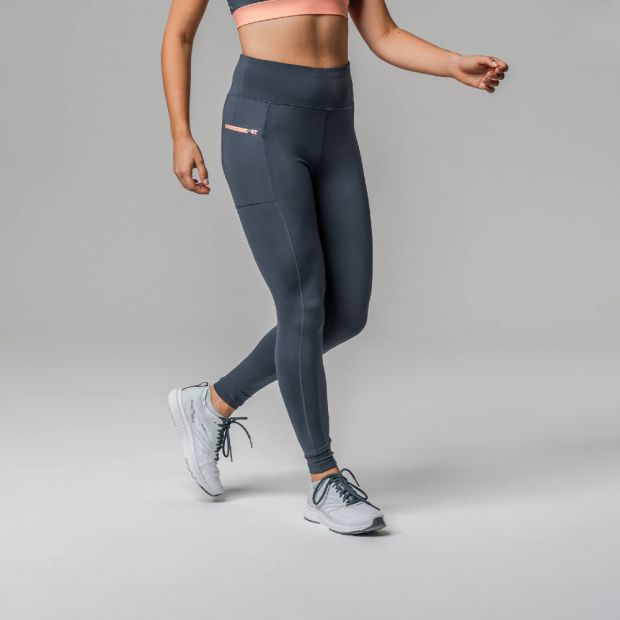 (opens in new tab)
The most eco-friendly leggings are, of course, the ones already in your wardrobe. However, if you need a new pair and you're looking for a brand that takes sustainability seriously, check out Rockay. As well as using recycled polyester, proceeds from each sale funds the ReSea Project, which removes plastic waste from the ocean. We loved the lightweight, stretchy fabric which also manages to be squat-proof. They are high-waisted, and we found they didn't fall down because the waistband itself is very wide and supportive, with a drawstring to keep it in place. There's a large zipped pocket on the leg for your phone. They're also treated with an anti-odour substance, which means you can get several wears out of them before they need a wash: another win for you and the environment.
---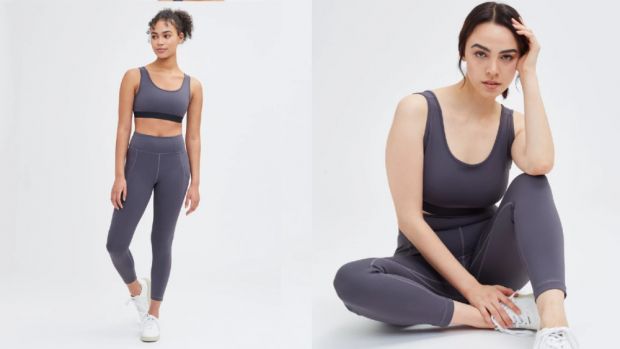 (opens in new tab)
These lightweight leggings were an instant hit with us. The fabric is soft and smooth; it's body-hugging but feels barely there. The wide, high waistband offers plenty of support and ensures the leggings won't drift downwards. There's a mesh phone pocket on the leg and a drop-in pocket at the waist. And what's more, these leggings are made with polyester from recycled post-consumer waste, diverting materials from landfill and giving them a new lease of life.
---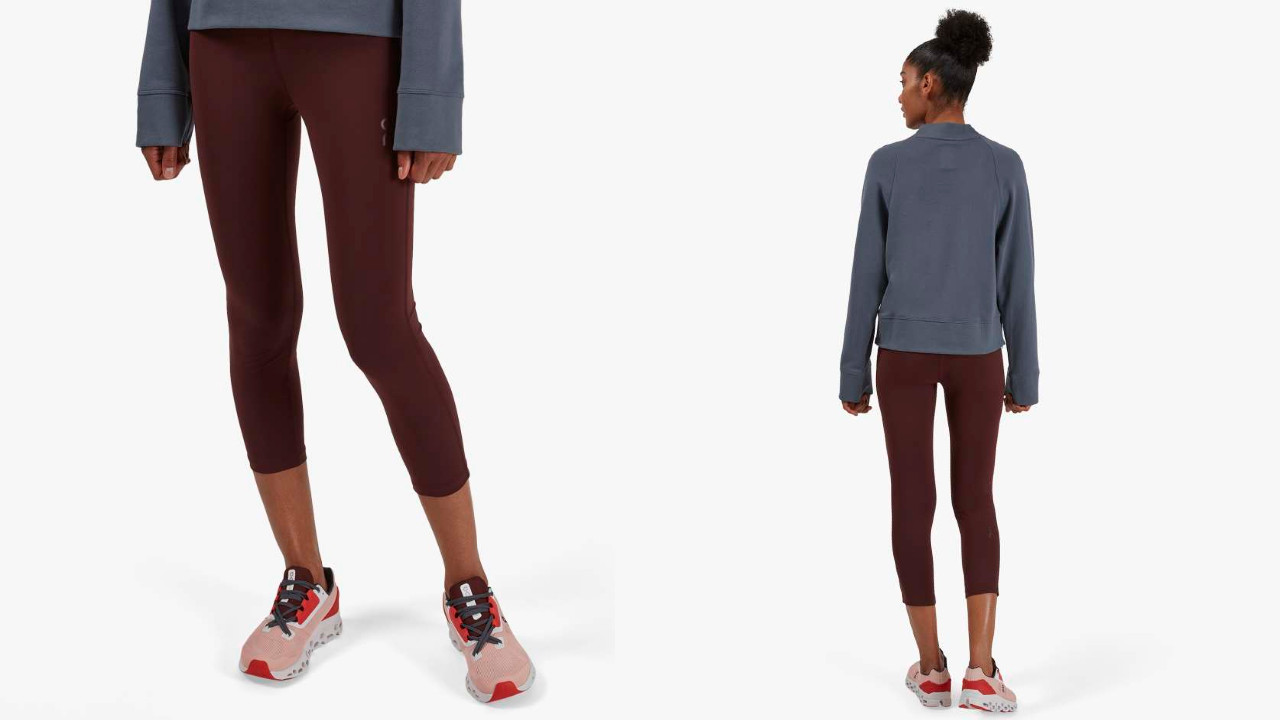 (opens in new tab)
These second-skin leggings are made with a lightweight, soft and stretchy fabric that uses mechanical stretch rather than elastane. The wide waistband has a hidden drawstring and there are several drop-in pockets, one with a key loop, while the pocket at the back of the waistband is big enough to fit a large smartphone.
---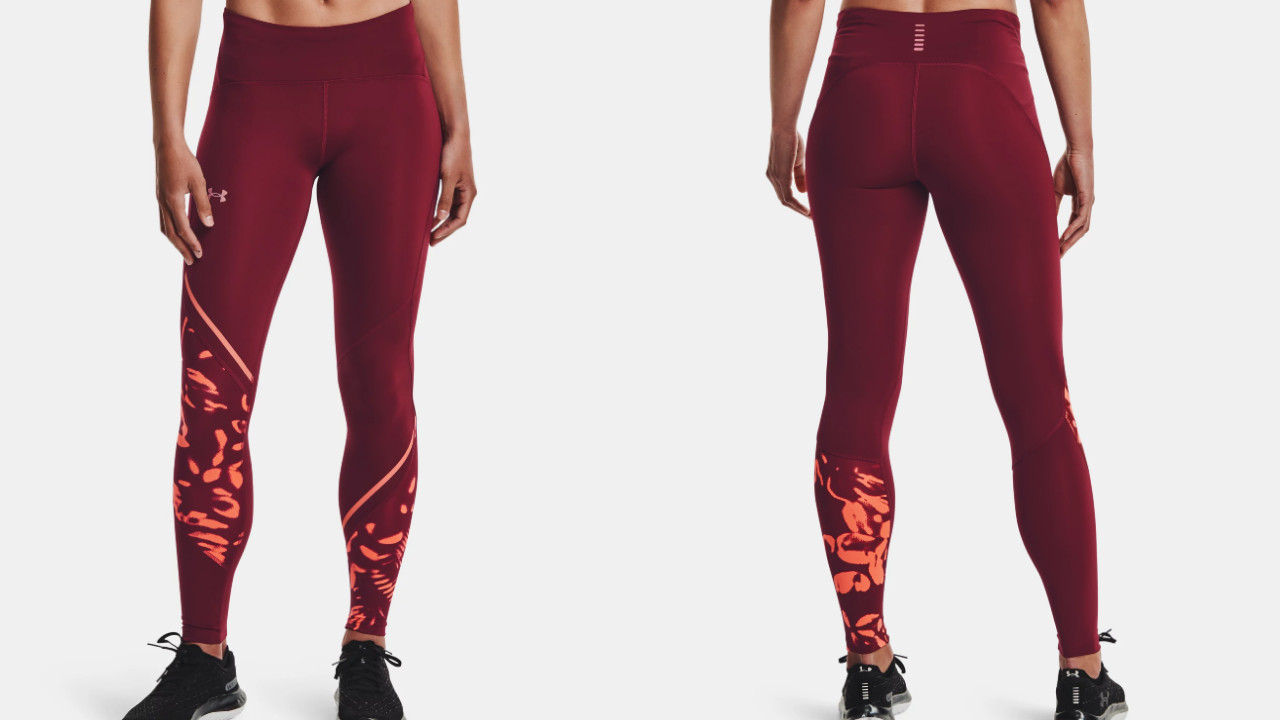 We loved the unusual colour combination and the asymmetrical print of these mid-rise leggings from Under Armour. The fabric is soft to the touch and lightweight with a mild compression fit. The wide mid-rise waistband has a hidden drawstring to keep it in place. There's a shallow drop-in gel pocket at the back of the waistband but we didn't fancy risking our keys falling out of it and there's nowhere to stash your phone.
---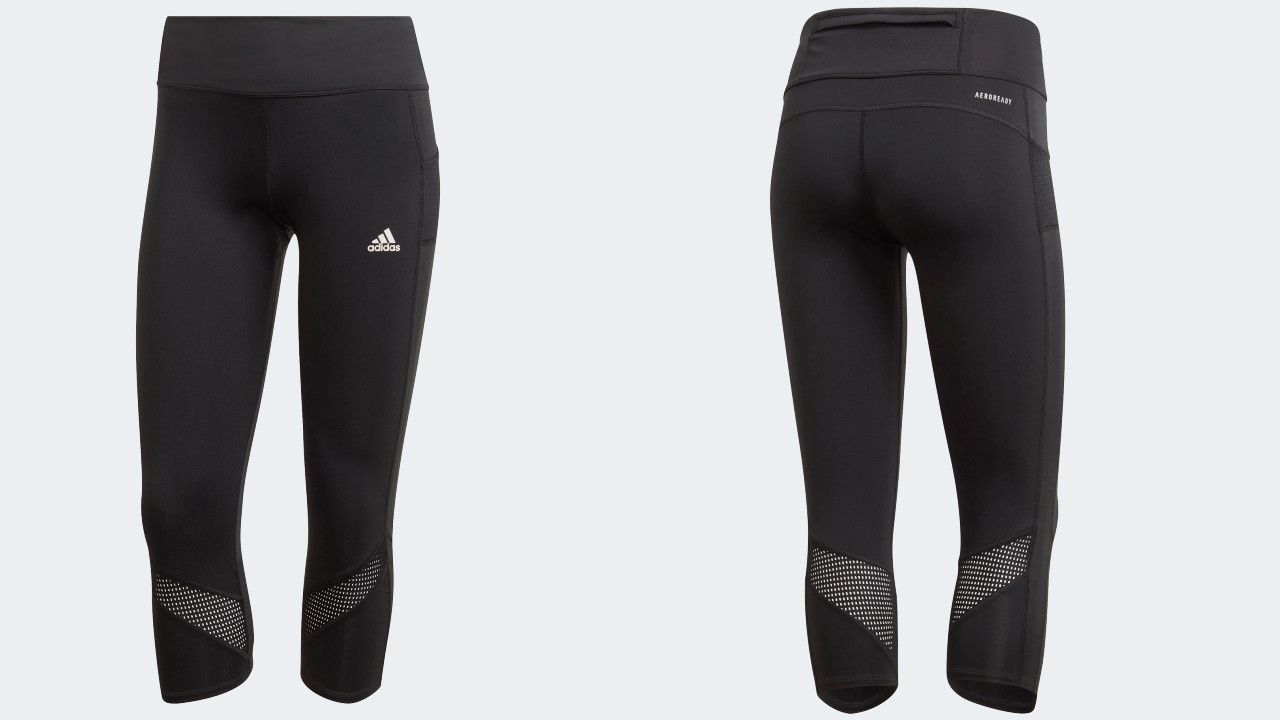 (opens in new tab)
These lightweight mid-rise capri leggings may not be the most exciting-looking but they are a good choice for racing or training in warm weather if you prefer more coverage than shorts. A hidden drawstring on the wide waistband helps them stay put, and there are drop-in pockets on the leg and a phone pocket at the back of the waist. The very lightweight material (made partly from recycled polyester) combined with mesh panels below the knee helps keep you cool and dry.
---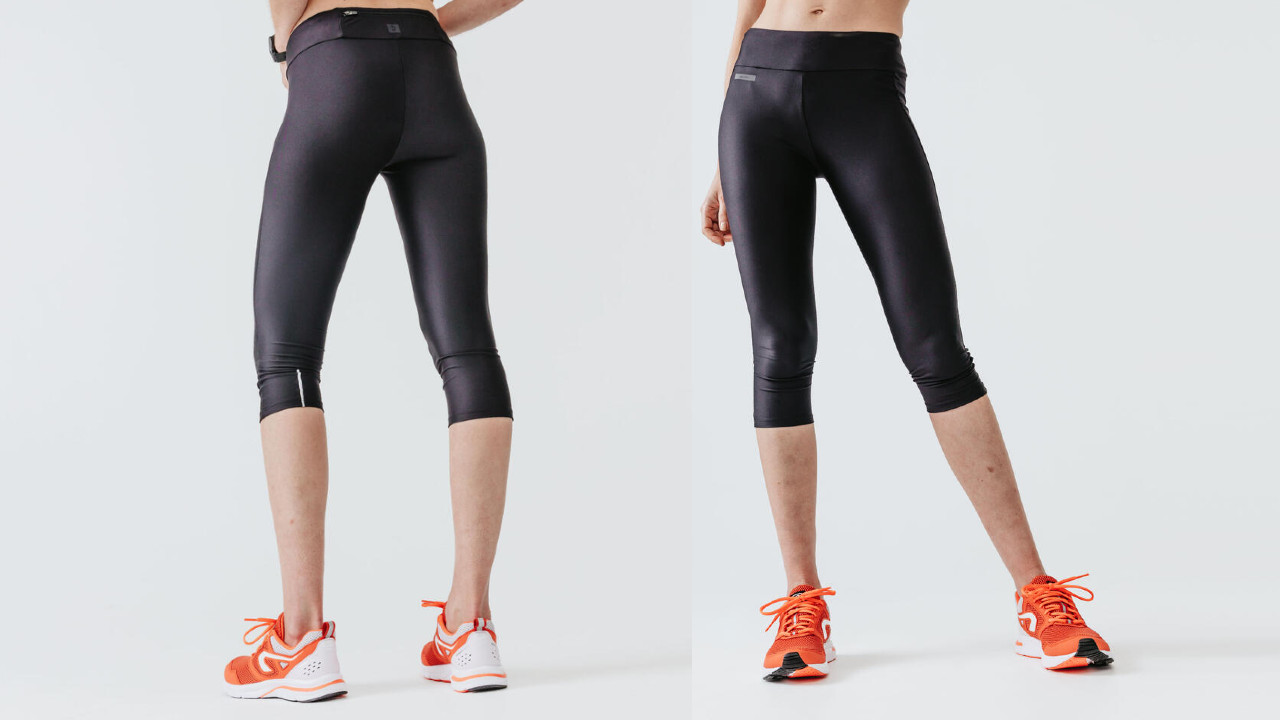 (opens in new tab)
An absolute bargain, these sleek Kalenji capris show that it's possible to acquire a good pair of running leggings for less than a tenner. The fabric is very lightweight with a fashionable sheen to it. The mid-rise waist has a hidden drawstring for a secure fit, and there's a zip pocket for your phone at the back of the waistband.
---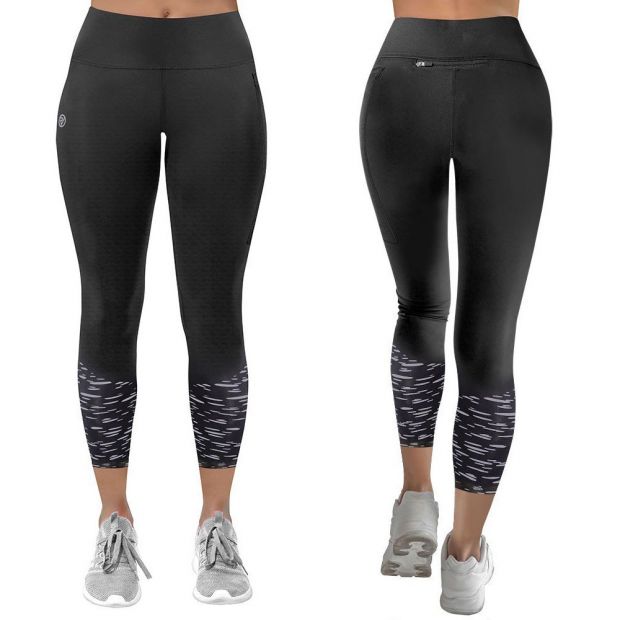 (opens in new tab)
Shine bright with these leggings from reflective gear specialist Proviz. The material is lightweight and comfortable with plenty of stretch, and the high, shaped waistband offers plenty of support. A smattering of reflective dots on the lower leg will keep you visible to traffic in low light, without being overwhelmingly bright. You can keep your phone at hand thanks to a deep pocket on the left leg (left-handed runners rejoice!) and there's also a small zipped pocket below the waistband at the back to stash your keys. One warning: these leggings are not totally opaque when bending over.
Best Compression Running Leggings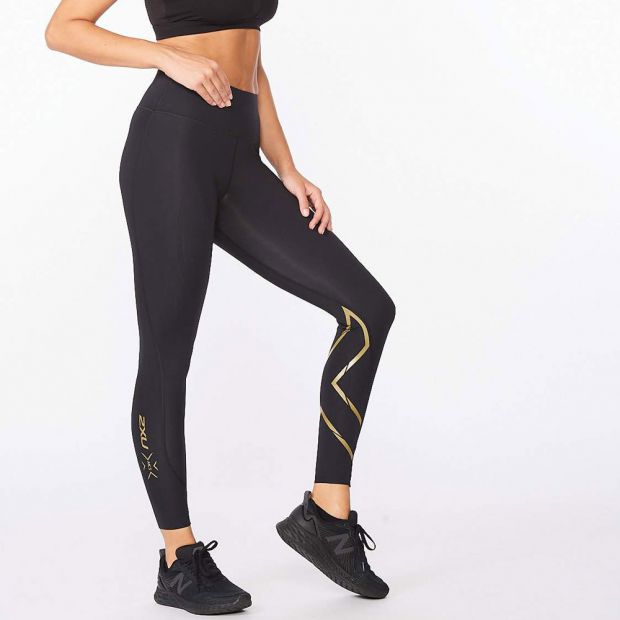 (opens in new tab)
If it's compression you're after, 2XU has you covered. The Aussie brand specialises in engineered compression tights that promote maximum blood flow to the muscles, potentially aiding recovery and improving energy efficiency. These mid-rise tights feature the aggressively named "Muscle Containment Stamping" – a form of muscle mapping, in which varying levels of compression are delivered by panels covering different muscles. Flatlock seams and a bonded wide waistband help avoid any chafing. There are no pockets, though.
---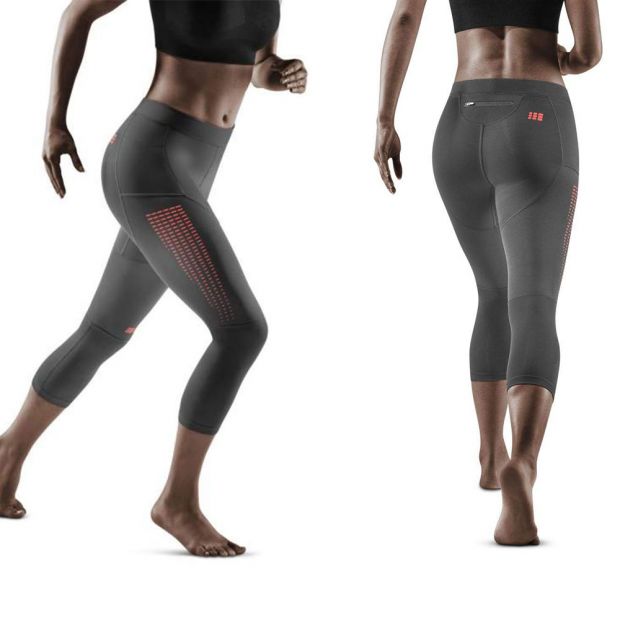 (opens in new tab)
An update to a classic, these mid-rise, ¾-length tights offer targeted medical-grade compression. According to CEP, the compression delivers an extra boost of energy during intense sessions, as well as ensuring more joint and tendon stability. Seams are extra flat, and there's a soft stay-put band on the lower calf. Although the waistband is narrow, the compression fit means the tights shouldn't move while you run. There's a small zip pocket at the back of the waist.
Best Race Leggings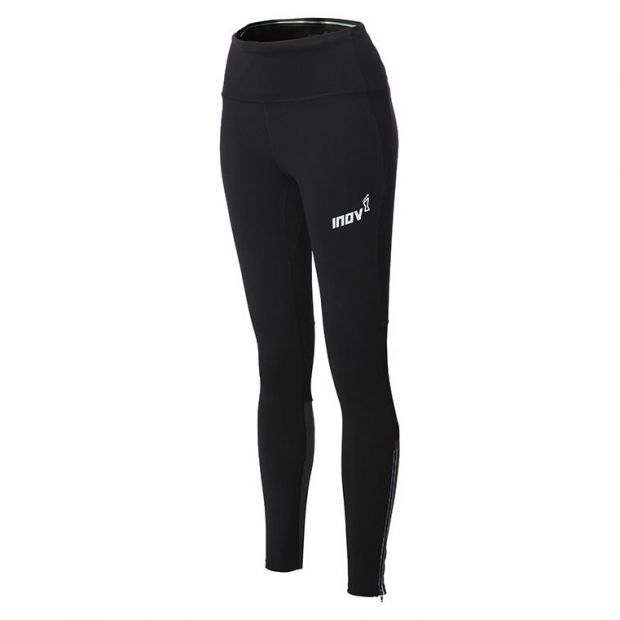 (opens in new tab)
If you're racing in cold weather you may well want full coverage for your legs. For maximum freedom of movement without sacrificing warmth and support, go for these warm, full-length leggings. They tick all the boxes, including a zip pocket with key loop, a mesh pocket for your energy gels, ankle zips and a snug, high waistband with a stay-put strip that grips.
Best Eco-Friendly Leggings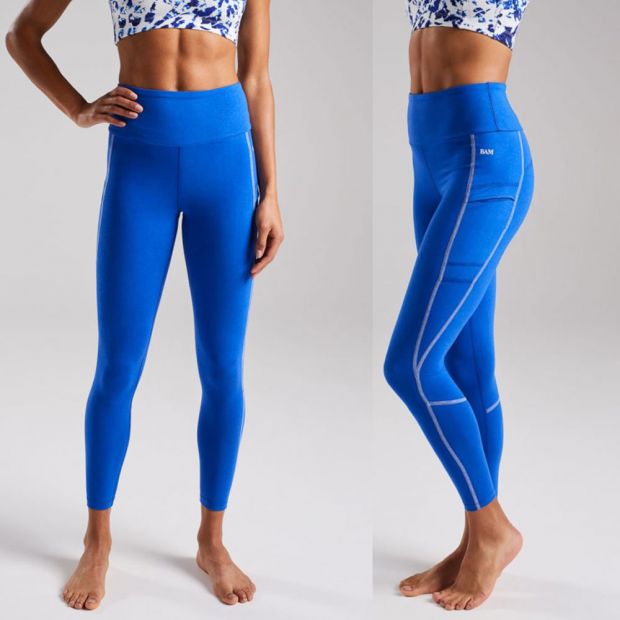 (opens in new tab)
These bamboo leggings come from a "climate positive" company, meaning it goes one better than carbon neutral: not only does BAM offset the carbon emissions of bamboo fabric production, it also accounts for the estimated emissions generated by washing the leggings 50 times. As well as being surprisingly soft, bamboo fabric is highly absorbent and therefore efficient when wicking sweat away from your skin. The Kennick leggings, which are high-waisted and slightly cropped in length, are made from a fabric that's thick and very supportive and yet manages to feel soft and comfy. The two deep leg pockets feel secure and there are no zips to dig in if you're doing floor work.
---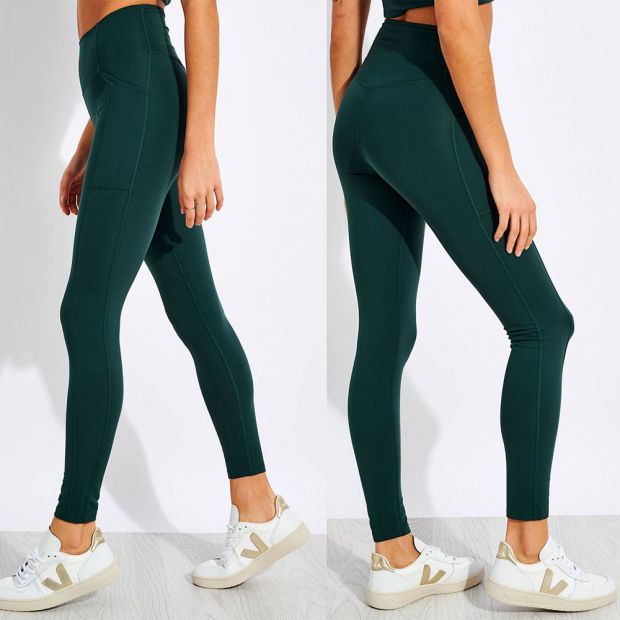 (opens in new tab)
California-based Girlfriend Collective uses recycled plastics to make high-end leggings in gorgeous jewel hues. Each pair is made using the equivalent of 25 recycled water bottles, and they are manufactured in an SA8000-certified factory in Vietnam (like Fair Trade, but for clothing manufacturers). Their high-waisted compression leggings are now available with two side pockets. The brand claims that their supportive, non-pilling fabric moulds to the shape of your body the more you wear it. Sizing is inclusive, ranging from XXS to XXXL, and they're cheaper than many high-end brands.
---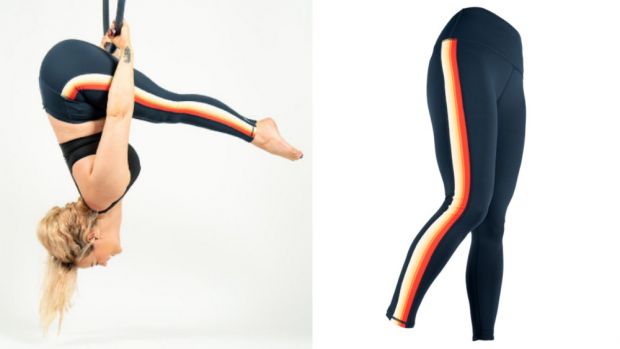 (opens in new tab)
We liked this high-waisted, squat-proof pair with a large zip pocket at the back of the waist. We also like Kit Change going the extra mile by using recycled zips as well as recycled polyester. The material is lightweight and close-fitting with a mildly compressive feel. We found the wide waistband comfortable and it stayed put. The only minus for us was a weirdly long shoelace-style drawstring – but that was easily removed. As well as plain black, there's navy or khaki with fiery orange stripes down the side of the leg.
Best Warm Leggings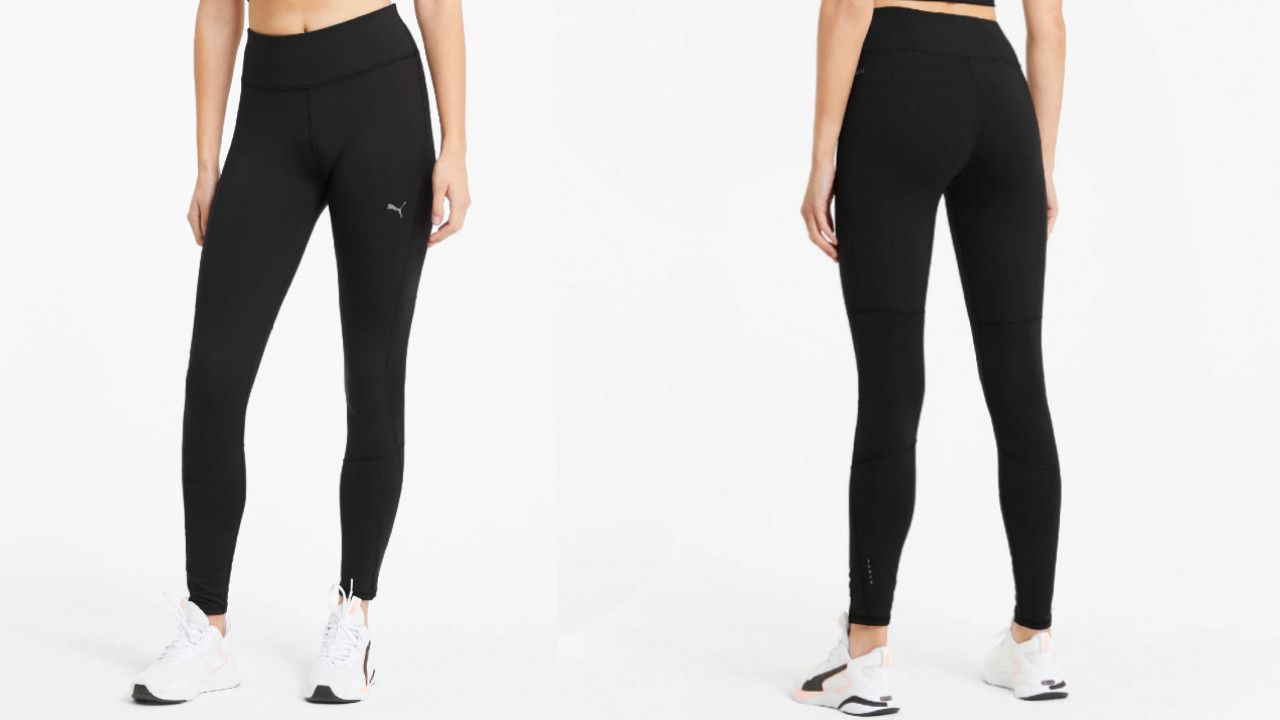 They're not the easiest to wriggle into but once on, these high-rise leggings are body-hugging and squat-proof. The fabric is partially recycled polyester, and the use of PUMA dryCELL technology means it wicks sweat away from your skin efficiently. An envelope-style pocket at the back of the waistband will take a phone. Note that these ones are quite long in the leg.
---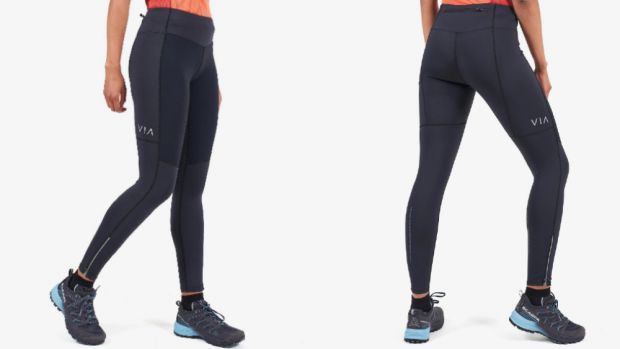 (opens in new tab)
With a hidden non-slip pattern on the inside of the high, wide waistband, these leggings should stay exactly where you want them. The soft and stretchy fabric is designed to keep you warm in cold conditions, and yet it's breathable and quick-drying. The design keeps things simple, but there's a phone pocket on the leg.
---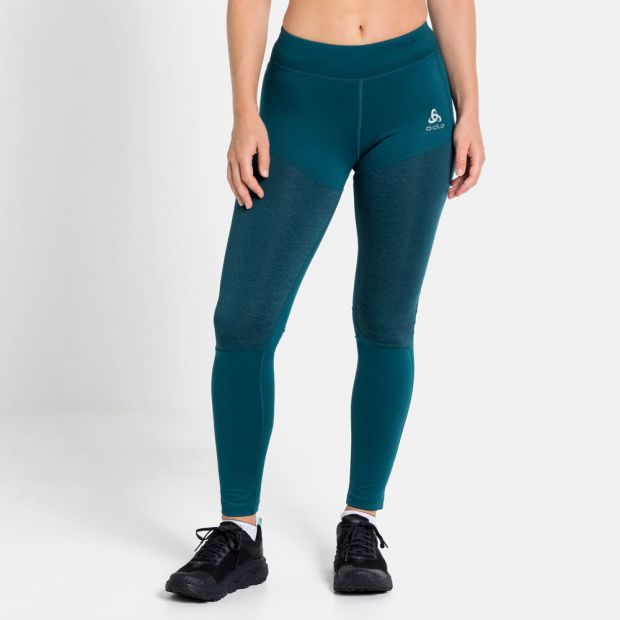 (opens in new tab)
Harnessing the insulating properties of yak's wool, these soft tights will keep you cosy and dry in freezing temperatures. An adjustable waistband ensures a comfy fit, a zip pocket allows you to stash your essentials, and their reflective elements are useful if you're a nocturnal runner.
---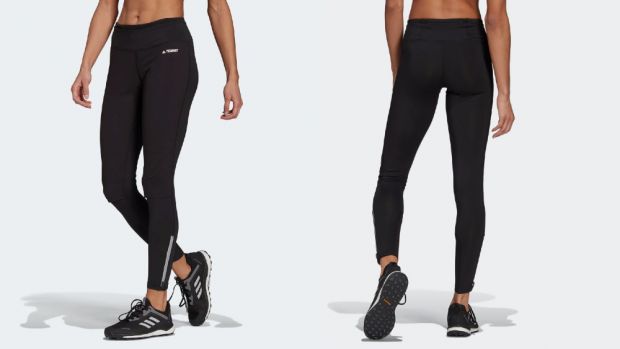 (opens in new tab)
Wind-resistant at the front of the legs and more breathable at the back, these leggings will help you battle through any headwind on the trails. The fabric is soft and stretchy, and there are two inner pockets and a zip pocket on the back of the wide waistband. Zips on the lower legs make them easier to get on and off. You may want to size up because these tend to be a little small.
I'm a good and health author and blogger with an interest in food, heartiness, and making every alternate count.
Life is an excursion. Constantly is another implicit chance to observe your equilibrium and deal with yourself. I 'm a thoughtful, diet-conscious lady who's energetic with respects to participating good and health tips to help other people.