Should I Consider Buying Something Else?
If you want top-notch sports tracking plus music and don't want to spend £500, no – the Garmin 645 Music is certainly your best option. Other options like the Apple Watch and Fitbit Ionic or Versa all fall short of the 645 Music's sports-tracking features, which are bettered only by top-end dedicated trackers like the Forerunner 935.
However, if you do have more cash to spare you should check out the Garmin Fenix 5 Plus range (the Fenix 5 Plus, the cheaper 5S Plus and more expensive 5X Plus). These are better sports trackers than the 645 Music, with a multisport mode and full colour maps for following routes, and have the same music storage and streaming features backed up by a better battery life (eight hours of music plus GPS on the Fenix 5 Plus).
If you're a runner and don't care about music, then the obvious option is the Forerunner 935, which has recently been reduced to £389.99 and is a brilliant, lightweight sports tracker with a battery that last for 25 hours of GPS use. If you like the stylish looks of the 645 more than the plastic 935, there's also the Forerunner 645 without music, which is £50 cheaper and otherwise the same, and cheaper still you'll find the Coros Apex, which has a premium design, a ridiculous battery life (35 hours of GPS for the 46mm version, 25 hours for the 42mm watch) and solid sports tracking for runners, and costs under £300.
If you're not a runner, the Forerunner 645 Music is a great daily activity tracker, but you don't need to spend £400 just for that. Fitbit, Garmin, Misfit and many others all make terrific daily trackers for upwards of £100, and there are options with music for under £300, like the Fitbit Versa or Garmin Vivoactive 3 Music.
Buy from Garmin (opens in new tab) | £399.99 (£349.99 without music)
Garmin Forerunner 645 Music In-Depth
Using The Garmin Forerunner 645 Music For Running
The Forerunner 645 Music tracks just about everything, but it throws the kitchen sink into its running offering. There is a lot to say, but if you're about to skip ahead know this: the 645 Music has every tracking feature a runner could want, and gives them a soundtrack.
You can have as many data screens as you want and cram them with up to four stats per screen. Going into all of the options for customisation would take more time than you, dear reader, and I can spare, but as well as the standard stats like time, distance, pace and heart rate, you can have screens dedicated to mapping your route or showing a course to follow, a virtual pacer (the only screen I use in races), guided workout information, and in-depth running dynamics. This last one requires a compatible sensor like Garmin's HRM-TRI or foot pod, and will show advanced info like your contact time with the ground while running. It's not for casual or even pretty darn serious runners, but its inclusion shows that the 645 Music can cater to even the most stat-obsessed.
You can also have a screen dedicated to your music and access it at any time on the watch by holding the down button. There's be more detail about adding and organising music on the device in the smartwatch section below, but if you're using it while running, the main concerns are how it affects the battery and how good the connection is to Bluetooth headphones. The battery takes a sizeable hit – music plus GPS means it last five hours, compared with 14 when just using GPS. That's still enough for most races, though a marathon might be tight, but I found that the Forerunner 645 Music is at least true to that "five hours" claim, so you know you'll be losing 20% for every hour of GPS and music and can turn off your tunes if you need GPS for longer.
The Forerunner 645 Music's connectivity was mostly impressive. I used it as my sole source of entertainment in several runs and a half marathon, and although it dropped out from time to time it never completely let me down. At the start of the half it struggled to maintain a connection to my headphones for five minutes, which might have be down to the vast number of people turning on headphones all around me at that moment, but just when I thought I was going to be without music for an entire race it kicked in and the connection held from then on. 
The 645 Music lets you follow a set route on the watch itself while you run, directing you with a breadcrumb trail and a little arrow. You can turn on these routes during the run itself, as well as activating a back-to-start feature which comes in very handy when running in a new area. To create full routes you have to use the Garmin Connect website, but you can create quick ones based on a direction and distance with the Garmin Connect app and sync them to the watch.
Workouts can be created through the app or website and synced to the watch. Impressively, the creation takes no time at all – I once did it on the walk to the track when I realised I didn't have my workout lined up. You can also create interval workouts on the 645 Music itself and follow it on a dedicated screen, counting down each section and keeping you on track if you have set a pace or heart rate target for certain parts of the session.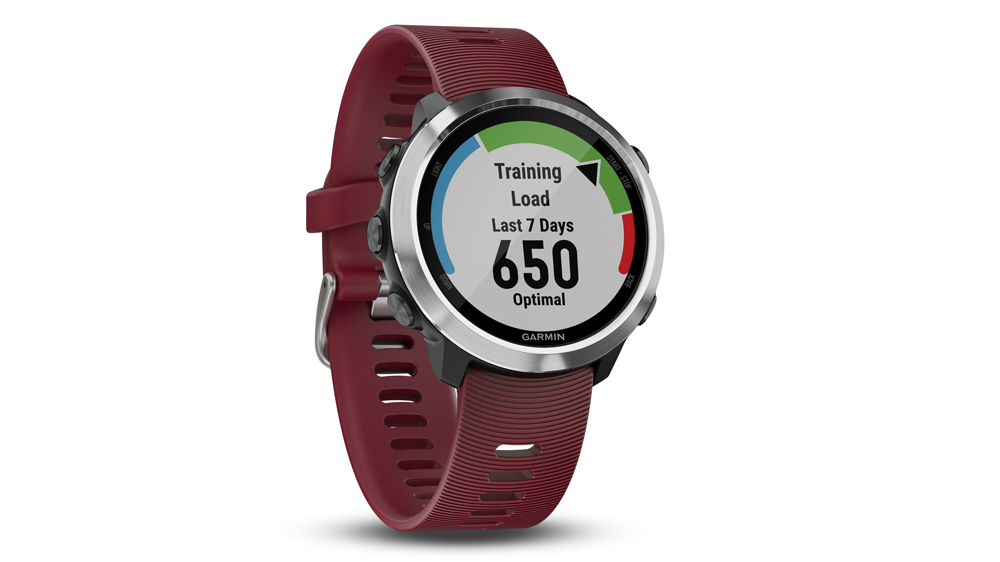 Once your session is over the Forerunner 645 Music will flag up any highlights, such as a new fastest 5K time or an improved VO2 max. There's also an ongoing analysis of the relationship of your changing fitness (based on your VO2 max) to your training load, telling you whether the work you're putting in is productive, unproductive, enough to maintain your fitness (maintaining), in perfect race condition (peaking), helping you to recover (recovery), overdoing it (overreaching) or letting yourself go (detraining). It also advises you how much time you should spend recovering after a session, and gives your predicted best times for 5K, 10K, half marathon and marathon distances.
In short, the Forerunner 645 Music is the ultimate training partner for runners, combining both the advanced tracking features of top GPS watches and the music usually found on smartwatches. In the past you'd have to choose between the two – the Fitbit Ionic and Apple Watch Series 3 are both great for music and other smartwatch features, but aren't nearly as good for running tracking as the Forerunner 935, which in turn doesn't have music. The 645 Music offers the best of both worlds.
RECOMMENDED: The Best Running Watches
Using The Garmin Forerunner 645 Music For Cycling
You can customise your data screens for cycling just as you would for running, and the Forerunner 645 Music connects to separate heart rate, speed and cadence sensors via both ANT+ and Bluetooth. Wrist-worn heart rate monitors can be problematic because of the braced position of your forearm when cycling, but I found the heart rate tracking during cycling was better than I expected – during both my commutes and one intervals session indoors the 645 Music was accurate, although I didn't try it on any long outdoor rides. It's easy to pair a chest strap if you want to eliminate any doubt from the readings.
There is no power meter support, which will be a disappointment for cyclists but is in line with Garmin positioning the 645 Music as a running watch, rather than one for triathletes. However, one feature cyclists will enjoy is the ability to track Strava segments on the 645 Music, so if you're competing for a specific KOM (King of the Mountain) on the app the watch will show your progress live.
Using The Garmin Forerunner 645 Music For Swimming
Before you get wet it's worth trying to find a pool that's at least 17m long, because that's the minimum you can set a length for on the 645 Music. Not a huge deal for most keen swimmers, but in city gyms it's not surprising to come across 15m pools – the two I use most often are 13m and 16m.
Once you start swimming the heart rate tracking is disabled on the 645 Music, which is out of step with other manufacturers. Suunto, Polar, Samsung and Apple devices make an effort to track heart rate from the wrist while swimming, not always successfully, but mostly well enough to make it a worthwhile feature.
As with all sports modes on the 645 Music you can set up your data screens for swimming and follow workouts in the water. Afterwards you get graphs and more detail on key swimming stats like SWOLF. Aside from heart rate, indoor swimmers get all they need from the 645 Music, but there is no open-water mode.
RECOMMENDED: The Best Waterproof Fitness Trackers
Using The Garmin Forerunner 645 Music To Track Activity
The Forerunner 645 Music might be a running watch, but it's clearly not a watch that's only meant to be worn while running. It tracks your heart rate 24/7 and shows a graph of the past four hours (colour coded by the heart rate zone you were in), along with all the standard activity stats like steps, calories burned, floors climbed and weekly active minutes (broken down by moderate and vigorous activity). It will also track your stress with a measurement based on heart rate variability.
You can adjust the targets for steps, active minutes and floors climbed, and set steps to adjust automatically based on your past activity. Try this when you're marathon training, for example, and your target will quickly rocket to 18,000 steps.
The Forerunner 645 Music is a sports tracker first and foremost, but its everyday tracking is the equal of anything else you'll find on the market.
Using The Garmin Forerunner 645 Music As A Smartwatch
Music is added to the 645 Music via Garmin Express, which you will need to download on your computer, or through syncing the watch with a streaming service, which since late 2018 has included Spotify.
Starting with the wired sync via Garmin Express, it's easy to pick the music or podcasts you want to add, and Garmin Express will also grab your iTunes playlists so you can sync them directly to the watch. There is 3.5GB of space available which equates to around 500 songs, according to Garmin.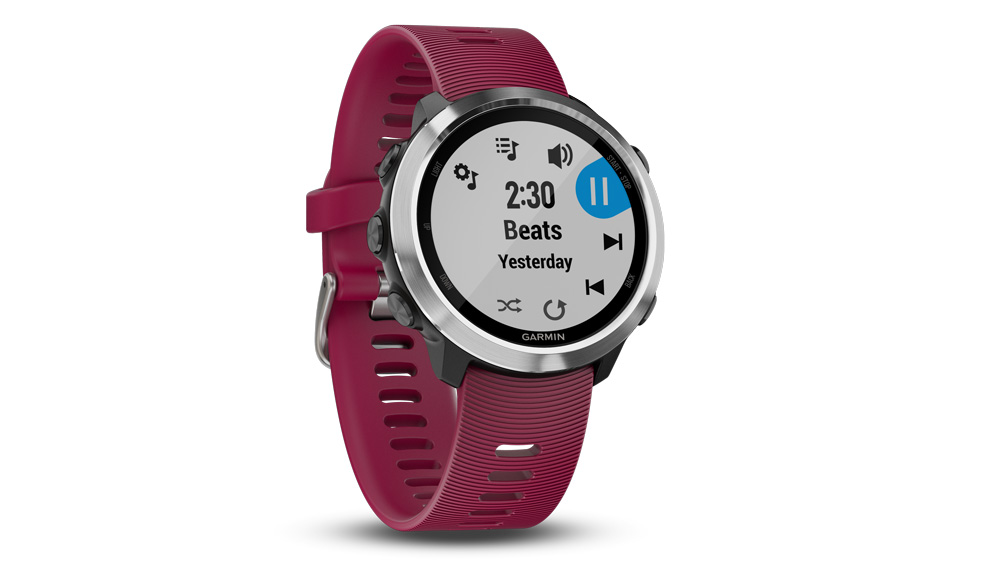 However, it's with the addition of Spotify that the 645 Music really comes into its own. Once you've downloaded the app on Garmin's Connect IQ store and logged in on the watch, it's easy to look through your Spotify library and sync playlists wirelessly (as long as your battery life is over 50%; if not you'll need to plug the watch into a charger while it syncs).
You can even find many podcasts on Spotify which is handy for me because that's my preferred listening during my runs. You do need a Spotify Premium account to use it with the 645 Music, but that's a worthy investment for music fans looking to run phone-free.
Other streaming services like Deezer and iHeartRadio are also supported on the 645 Music, and can be used in the same way as Spotify.
The other main smartwatch feature on the 645 Music – Garmin Pay – is less of a success, largely because Santander remains the only major high street bank to use it. You can sidestep this issue through .boon, an iOS and Android app which can be used just like a prepaid contactless Mastercard and topped up with any bank card you already have, but boon. costs £1.49 a month to use after the first three months.
Using The Garmin Forerunner 645 Music As A Heart Rate Monitor
The Forerunner 645 Music tracks your heart rate throughout the day to provide both its stress and resting heart rate measurements. Having tried several Garmin devices with stress tracking I have to say I've never looked at it after the first couple of days, but the resting heart rate stat is useful because it's a good overall measure of your cardiovascular fitness – if your resting heart rate is going down, your fitness is probably going up. It's also useful, if sometimes alarming, to see your daily resting heart rate charted over the past week on the watch. Alarming because the day after a big night out, I always notice a sizeable spike in my resting heart rate the following day. Alcohol, eh?
When tracking an activity you can keep tabs on your heart rate and/or heart rate zones on a customisable data screen, and there is also a dedicated screen with a colour-coded gauge that gives your heart rate and shows you which zone you're in. You can also train by heart rate zone when setting up a workout on the Garmin Connect app – useful if you don't like using pace to judge intensity while running, or can't because you're in a hilly place where you'll be working hard even if you're running slowly.
I never had any issues with the accuracy of 645 Music's heart rate tracking in any activity I tried. When running I found it reliable enough that I felt no need to wear a chest strap. Even during interval sessions there was little lag between stepping up the effort and the reading on the watch rising accordingly.
RECOMMENDED: The Best Heart Rate Monitors
Using The Garmin Forerunner 645 Music For Sleep Tracking
In my opinion, Garmin has never really cracked sleep tracking. All the Garmin trackers I've tried have trouble distinguishing between me sitting in bed reading or watching TV, and actually being asleep, which means my "total hours asleep" tally is always artificially high. This remains the case with the 645 Music. You do get a graph of your movement throughout the night, so you can actually see when you did fall asleep and wake up, even if the 645 Music believes you fell asleep earlier, and you are also given the total time spent in light or deep sleep. It's an OK sleep tracker, but nothing more than that.
On the plus side the 645 Music is very light and comfortable to wear while sleeping, and I found that my wrist didn't get hot or sweaty when wearing it overnight.
RECOMMENDED: The Best Sleep Trackers
The Garmin Connect App
This is probably my favourite fitness tracker partner app, and if everyone was on it rather than on Strava I probably wouldn't bother with the latter. Garmin Connect shows all your daily stats and activities clearly on the homepage through a series of colourful cards, and you can click through them to get to more detailed info on a particular run, or your step count over the past few days, weeks or months. You also get a seven-day round-up of all the most important stats on the homepage, including averages for calories and steps, as well as total distance run and cycled. Plus, the app syncs easily with the likes of Strava so your activities are beamed over automatically.
I did, however, find that I had more trouble syncing the 645 Music with Garmin Connect than with other Garmin trackers, especially when transferring over long runs. With the Vivoactive 3, Forerunner 935 and Forerunner 35 I found that my activities would often be synced before I'd even managed to take my shoes off after getting home, but with the 645 Music I often had to open the app and refresh it a few times. It's not a big issue, just surprising.
How Often Am I Going To Have To Charge It?
Garmin gives the battery life as 14 hours of GPS, or five hours of GPS plus music, or five days as a smartwatch. Putting music aside, I found this worked out to two charges a week, based on running four or five times plus commuting to work by bike. But who would want to put the music aside? It's the point of the thing. Listening to podcasts or music from the 645 Music during all my running put me at three charges a week minimum.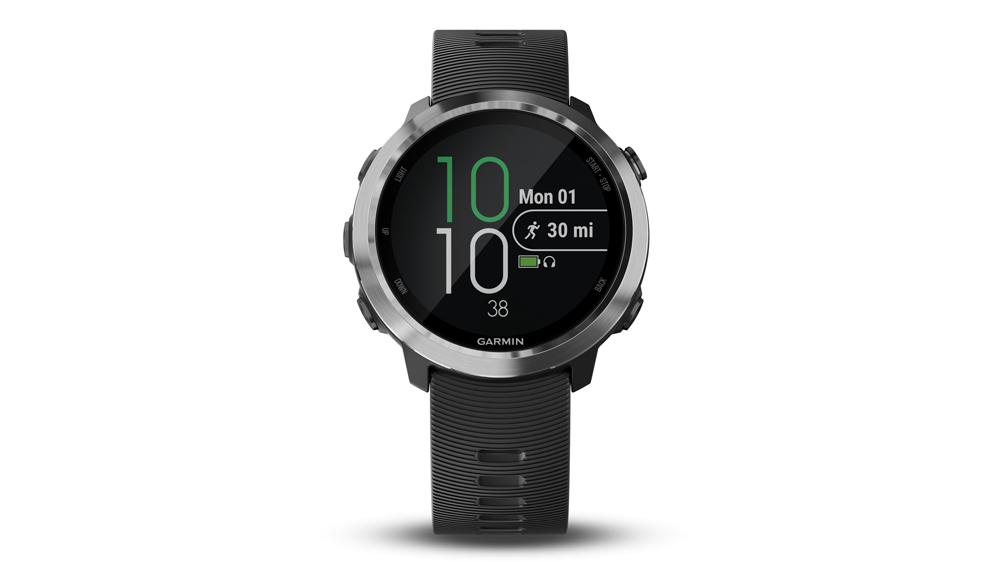 Where Can I Wear It Without People Laughing At Me?
The Forerunner 645 Music is a terrific-looking watch, especially considering it has five buttons. Buttons make it far easier to use than a touchscreen during activities, but usually mark a device out as too sporty to wear everywhere. The 645 Music defies that convention – it is as stylish as any smartwatch.
I'm a good and health author and blogger with an interest in food, heartiness, and making every alternate count.
Life is an excursion. Constantly is another implicit chance to observe your equilibrium and deal with yourself. I 'm a thoughtful, diet-conscious lady who's energetic with respects to participating good and health tips to help other people.