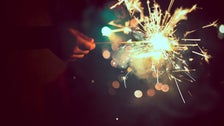 An 11-year-old boy from Posey County, Indiana died in an incident involving fireworks the night before the Fourth of July, authorities said.
Mt. Vernon Police responded to a call that a child "was seriously injured" by fireworks at about 9:42 p.m. on Sunday, according to a press release shared by the Indiana State Police on Monday.
Camrynn Ray McMichael died while being transported to an Evansville hospital.
No further details were released about the incident, but McMichael's mother, Kyrra McMichael, told Fox 59 News that the situation was a "tragic freak accident" and fireworks are "no joke."
"He's every parent's dream of a boy," she said. "And because boys are boys, they play with fireworks (and) he is gone. In the blink of an eye. Literally."
An autopsy at the Posey County Coroner is scheduled for tomorrow.
The incident is being investigated by the Indiana State Police, Mt. Vernon Police Department and the Posey County Coroner.
The U.S. Consumer Product Safety Commission recommends never allowing young children to play with or ignite fireworks, including sparklers.
I'm an emotional well-being and actual health proficient who needs to help other people carry on with their best lives. My main goal is to enable you to make what you need, regardless of whether it's not the same as your thought process.
I offer a comprehensive way to deal with mental and actual health. I'm a committed, merciful, and educated mentor with more than 18 years of involvement.